RON DEL BARRILITO CELEBRATES THE CLASSICS
Since Ron del Barrilito was created in 1880, the world has developed many cocktails that have become as legendary as our rum. Learn how to make some of these with a Ron del Barrilito twist.
Created around the same decade as Ron del Barrilito, the Old Fashioned has been the favorite of many for more than 140 years. When you try it with Ron del Barrilito instead of bourbon, it'll become your favorite as well.
2 oz. Ron del Barrilito Three Stars
3 Dashes Chocolate Bitters
3 Dashes Orange Bitters
½ oz. Simple Syrup
Orange Peel Garnish
Pour all of the ingredients into a mixing glass and add ice. Stir for 10 seconds and strain into an Old Fashioned glass with ice. Squeeze orange peel over the glass and place it on top of the cocktail. Garnish to taste.
To get more of Ron del Barrilito's essence, you can reduce the amount of brown sugar syrup.
A classic almost as old as our rum. Made traditionally with whiskey, a Manhattan's bitter notes contrast perfectly with the flavor profile of Ron del Barrilito Three Stars.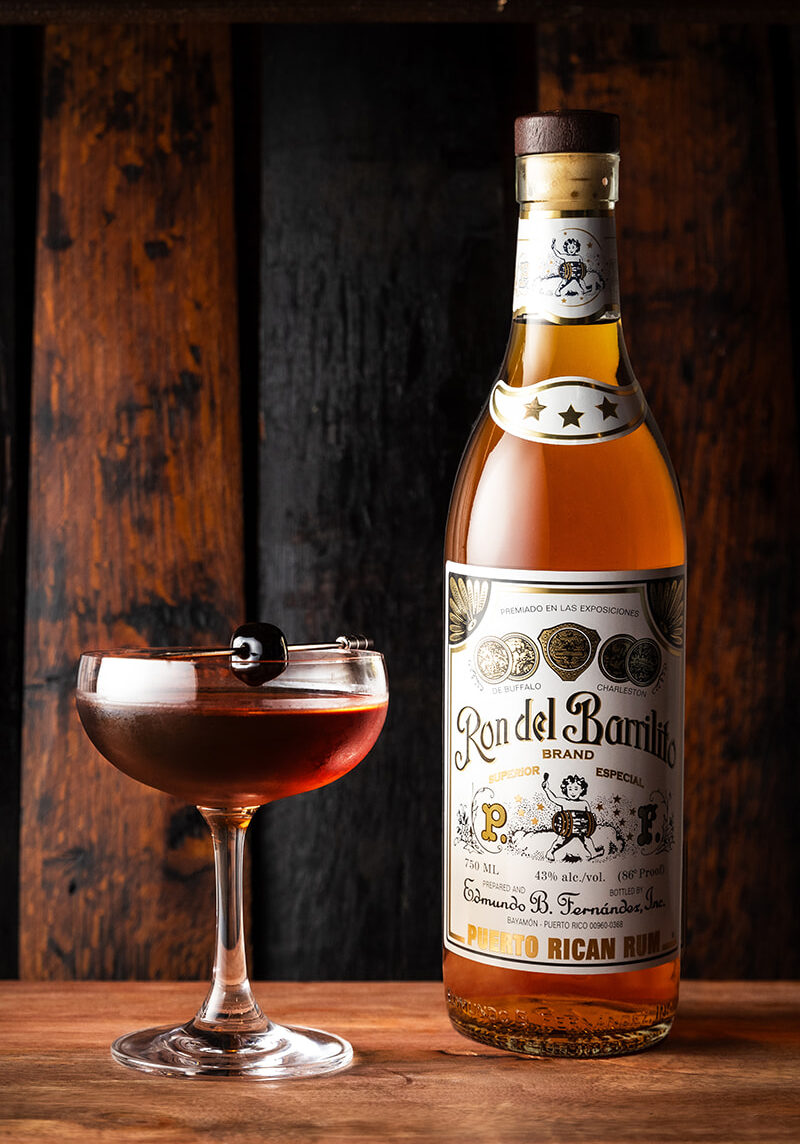 2 oz. Ron del Barrilito Three Stars
¾ oz. sweet vermouth
3 dashes of orange bitters
3 dashes of chocolate bitters
Garnish: Maraschino cherry.
Pour all of the ingredients into a mixing glass with ice. Remove ice with a bar spoon. Strain, garnish and serve.
The orange and chocolate bitters highlight the rum's woody, fruity, and spiced notes.
Created in Italy during the early 20th century, the Negroni has turned into a global classic, just like Ron del Barrilito. Its bitter profile goes well with the sweeter notes of Ron del Barrilito Three Stars.
1 oz. Ron del Barrilito Three Stars
1 oz. Campari
1 oz. sweet vermouth
2 dashes of orange bitters
Garnish: orange peel
Combine all ingredients in a mixing glass with ice. Stir and strain into a lowball glass with a large ice cube. Squeeze a slice of orange peel over the glass and garnish.
Ron del Barrilito brings sweet, woody notes to this cocktail, creating a great balance with its bitter profile. This is a classic cocktail that works well as both an aperitif and a digestif.
Made in the 1940s, the Moscow Mule has been a refreshing option for more than 80 years. Ron del Barrilito goes perfectly with the ginger-forward profile of this classic cocktail
2 oz. Ron del Barrilito Three Stars or Two Stars
1 oz. lemon juice
2 oz. ginger beer
1 oz. simple syrup
Garnish: dehydrated lemon peel
Combine the rum and ginger beer in a copper mug with ice. Add lemon juice and simple syrup. Stir gently and garnish with lemon peel.
Using authentic ginger beer will give this cocktail a special touch that will highlight Ron del Barrilito's aromas of plums, almonds, peaches, and vanilla.
Puerto Rico's most famous contribution to the cocktail world. Created sometime during the 1950s, its exact origins are often debated. What's not debatable is that its best version is made with Ron del Barrilito.
2 oz. Ron del Barrilito Two Stars or Three Stars
2 oz. cream of coconut
4 oz. pineapple juice
Garnish: dehydrated pineapple
Combine rum, cream of coconut, pineapple juice, and ice in a mixing glass. Shake well and serve.
Use a mixing glass instead of a blender to combine the ingredients. Ron del Barrilito's caramelized fruit, sugarcane, and oak notes will highlight this cocktail's unique flavors.